Lesosai 2022
Thermal energy balance calculations of a building's construction.
Easy to install and use (gbXLM import, wizard for pre project and renovation)
Conforms to the latest European, French, and Swiss Standards
Official weather data from Switzerland, Italy, Germany, Luxembourg, Roumania and France
Minergie, SIA380/1, SIA380/4, EN 13790, SIA384.201, RT2005, RT2012, SIA2044
Web site: www.lesosai.com
Eco-Sai
| | |
| --- | --- |
| U-Value following EN ISO 6946, EN ISO 13786, EN ISO 13788 and SIA 180, dynamic characteristics, condensation risks and Life cycle assesment. | |
Inhomogeneous walls, air layer, heating, connection with materialsdb.org, dynamic characteristic, risk of internal condensation...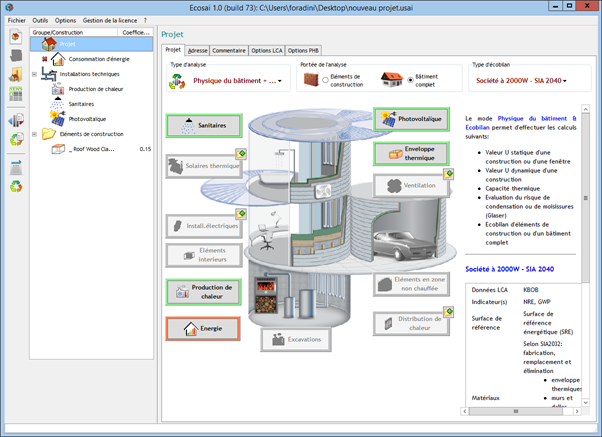 Web site: www.eco-sai.com
Materialsdb.org
A TOOL FOR FACILITATING INFORMATION EXCHANGE BETWEEN BUILDING MATERIAL PROVIDERS AND BUILDING PHYSICS SOFTWARES
E4tech, together with the building material providers Flumroc, Isover, Morandi, Pavatex, Swisspor, Tuileries de Fribourg et Lausanne and with a contribution of the Fraunhofer Institute, developed a new open source format in XML (Extensible Markup Language).
The new tool allows providers to manage independently their own building material database and does not require a central database. The building physics softwares can access the various decentralised databases via a DLL (Dynamic Link Library).
Web site: www.MaterialsDB.org
Radiaconf 1.1 beta
Thermal comfort analysis
Beta version
Use Fanger work and EN ISO 7730
Results shows in 3d graphics
Screen languages are in French
Official weather data from Switzerland
Web site: www.radiaconf.com